Regular price
$22.99 USD
Sale price
$19.99 USD
Unit price
per
Sale
Sold out
Everything you need for a quick, easy and effective clean. Ideal for frequent shoe cleaning and maintenance. Fresh sneakers in minutes, no need to add water!
Foam Cleans 8+ pairs. All other tools are reusable.

What's in this kit?

- 5 oz. premium foam cleaner
- Cleaning mat
- All-purpose shoe brush
- Microfiber towel
Best for

Quick cleaning and maintenance of non-porous materials like leather, plastic, rubber, and soles. Designed to deliver effective results without the need for soaking.

Our priority is to improve the look and performance of your shoes. And we get it! We are also very protective of our shoes so if you have any questions, we are here to help.
Shipping & Returns

Free standard shipping and returns.

Standard 5-7 Day Delivery (Always Free).
Expedited Shipping: Next-Day Delivery, 2-Day Delivery, 3-Day Delivery.

Expedited shipping time and pricing varies depending on the delivery address and speed selected at check-out.
View full details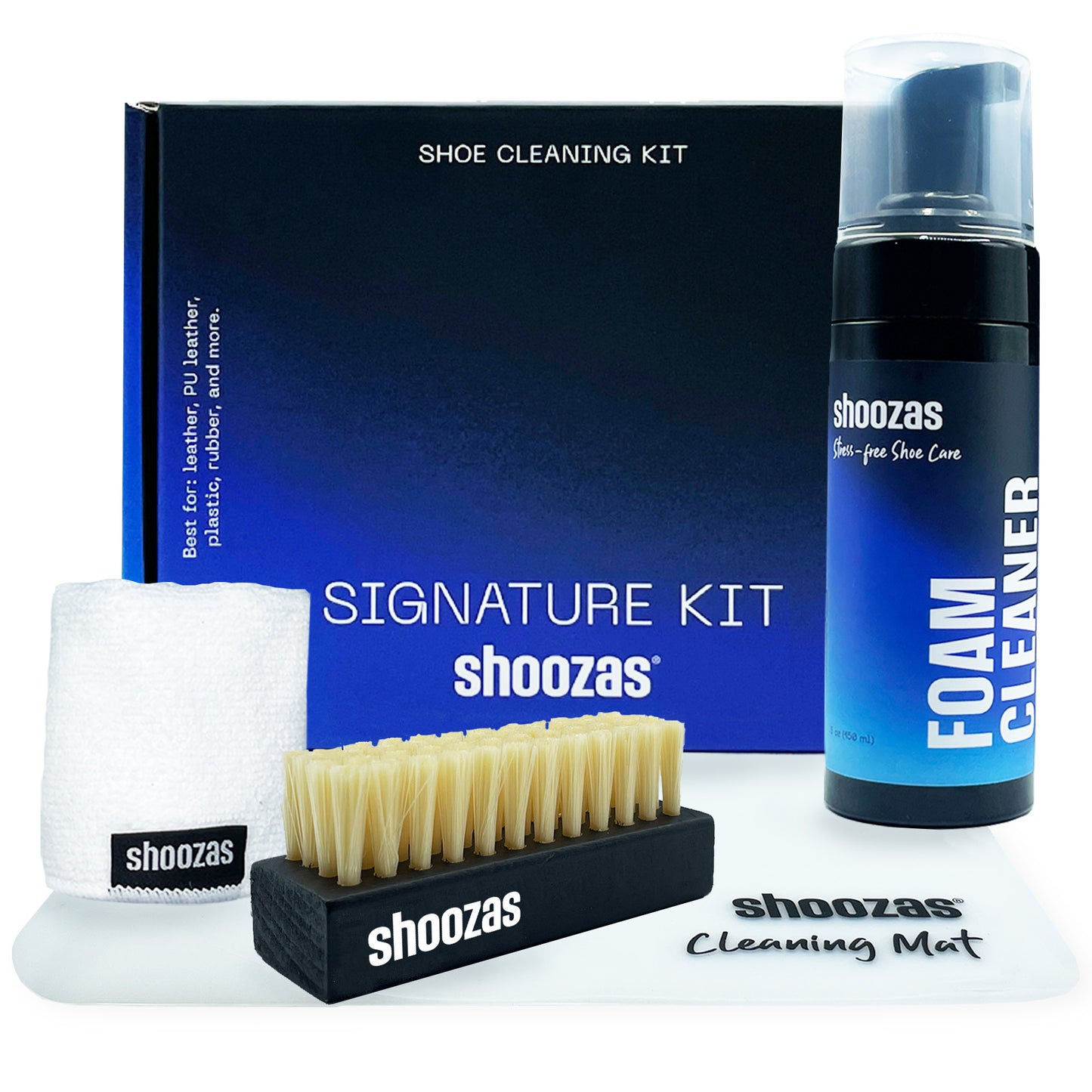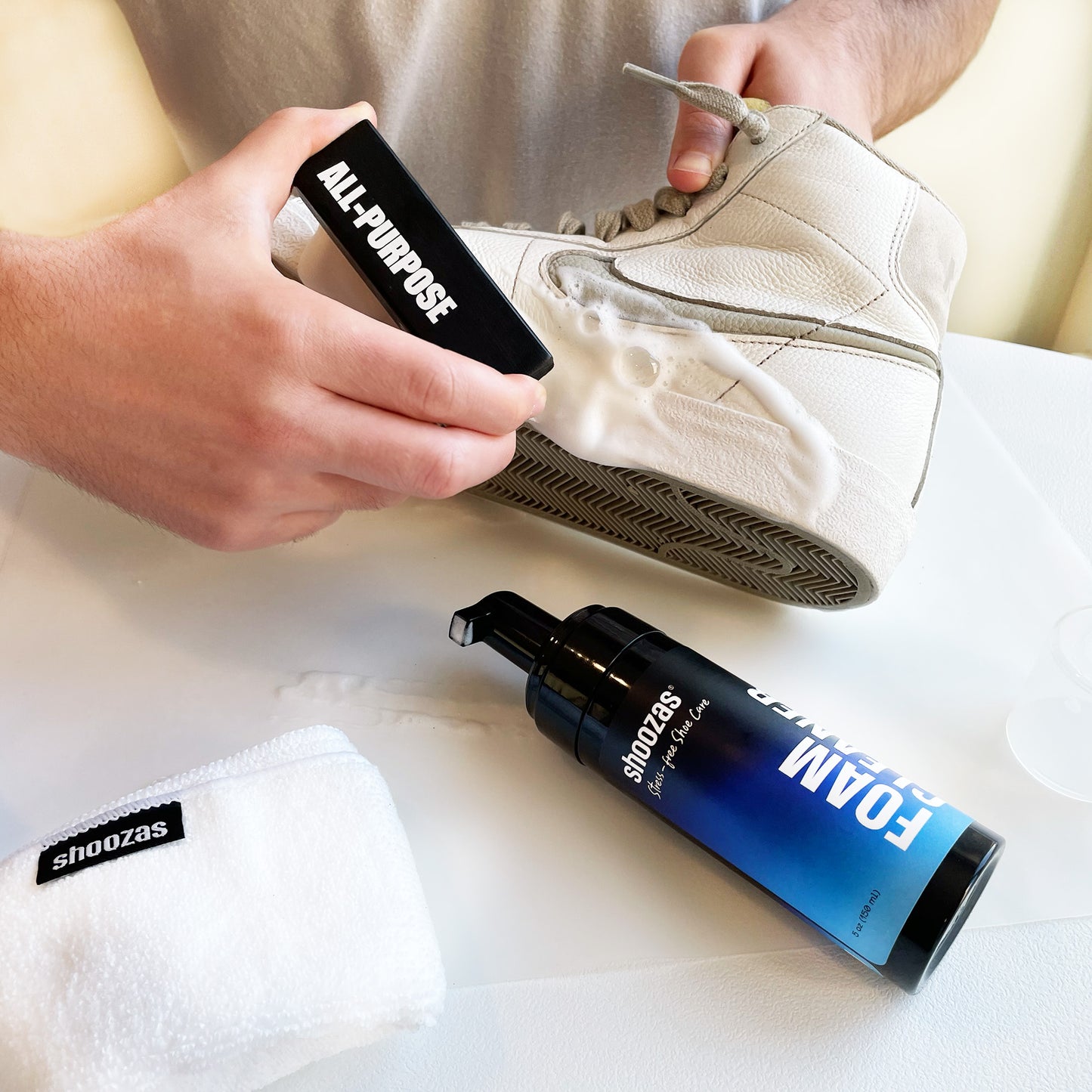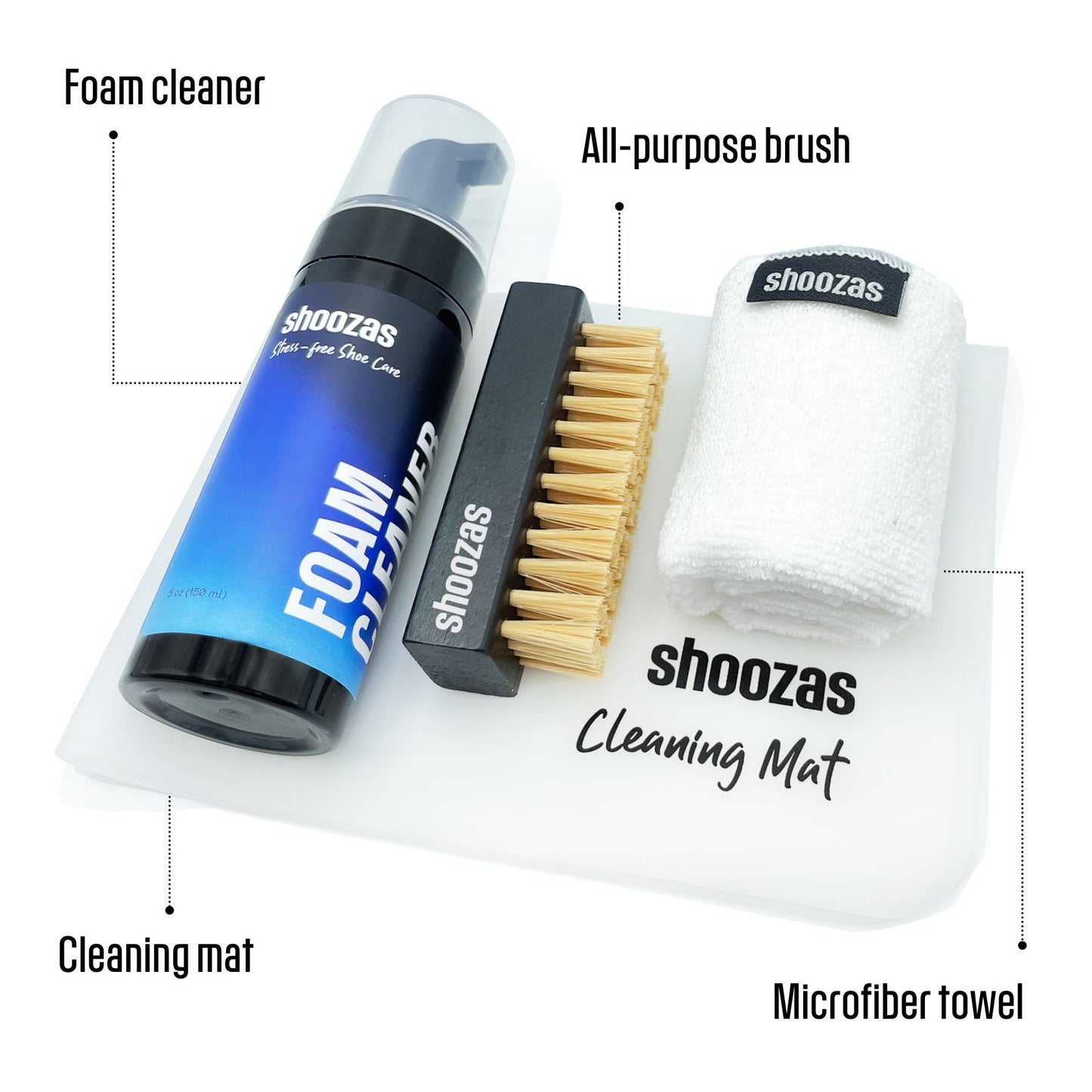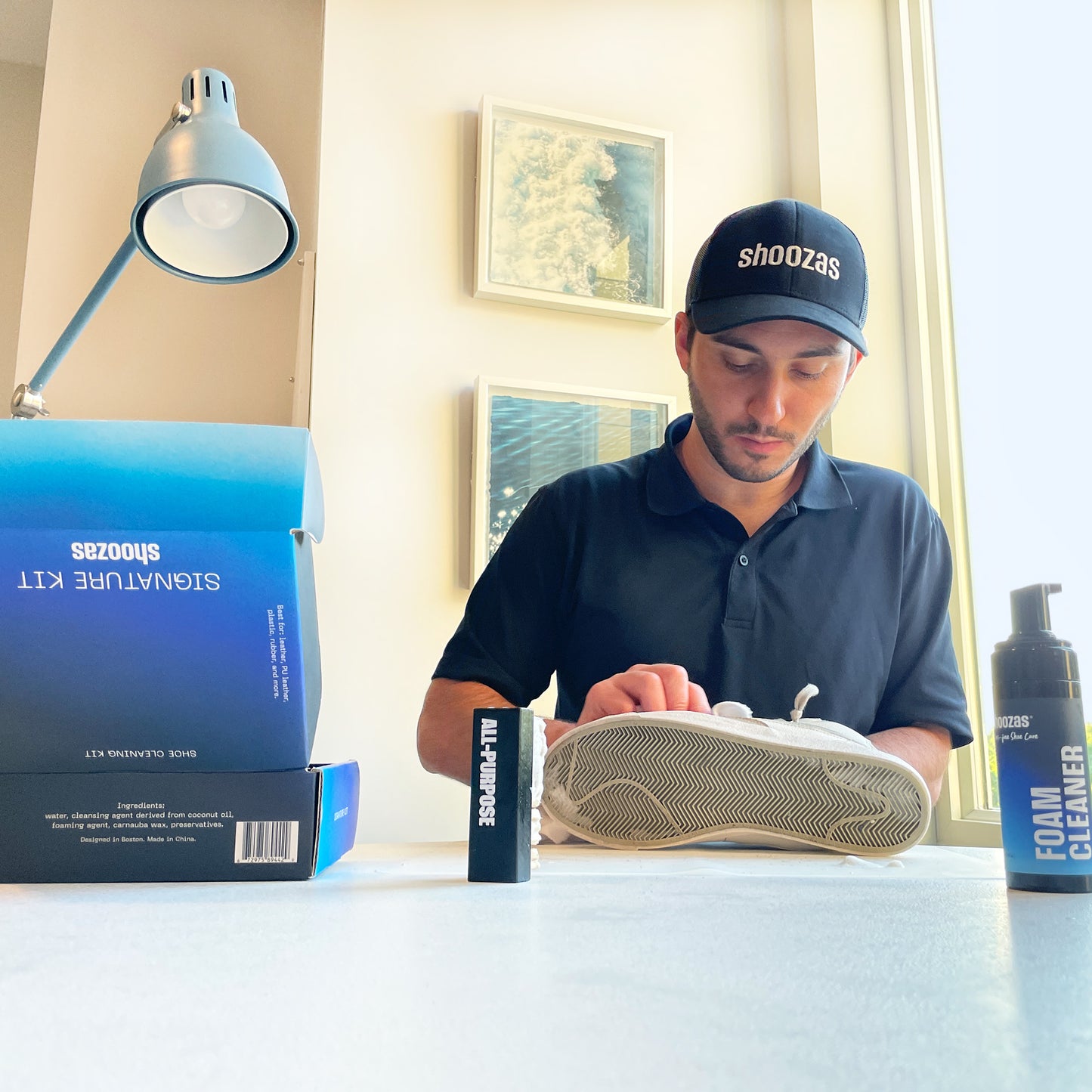 The Shoozas Method
PUMP

Place dirty shoes on the Shoozas cleaning mat. Shake well and pump foam cleaner directly on dirty areas. Always test a small area first.

SCRUB

Scrub shoes in circular motion with the all-purpose brush. Start with the uppers and move towards the soles.

DRY

Remove the excess foam with the microfiber towel and leave shoes to air dry indoors. Rinse the brush and the cleaning mat with water before storing.
FAQ
Is this the right product for you?

This is our "must-have" kit. A perfect pick for those with shoes that require frequent cleaning and maintenance.

Use on non-porous materials like leather, plastic, rubber, and soles for best results.

What makes our Signature Kit stand out is how incredibly quick and easy it is to use. We've designed it to make clean-up a breeze. Plus, our quick-dry formula means your shoes will be good to go in just a matter of minutes. Athletes, adventurers, parents of young children, this kit is for you!
How to use your Signature Kit?

Follow the Shoozas Method. Learn how here.
What's included in the Signature Kit?

The kit includes:
-5 Oz. premium foam cleaner
-Cleaning mat
-All-purpose shoe brush
-Microfiber towel
Is the Foam Cleaner safe for all materials?

Our non-toxic foam cleaner is made from coconut oil derivatives. It is best for: leather, plastic, rubber, soles.

Opt for our In-depth Kit for canvas, cotton, knit, mesh, nylon, vinyl shoes.
What is the Cleaning Mat for?

Our mat is the first ever portable shoe cleaning station. It protects counters and allows for a quick clean-up. It is waterproof and foldable. Clean your shoes anywhere without making a mess. Just wipe or rinse clean after using!
What is the All-purpose Brush for?

The all-purpose brush is your ultimate cleaning buddy! It's incredibly versatile and designed to handle a wide range of materials with ease.

It is gentle on delicate materials and also a tough warrior against stubborn stains. No need to worry about damaging any material – our all-purpose brush is engineered to clean effectively without causing harm.

The bristles are made from synthetic materials, we don't use animal hair ♥
How long for my shoes to dry?

Our foam is quick-dry and you don't need to add extra water when cleaning.

Just keep in mind that a deep clean (using a lot of foam) will require more drying time than a quick re-touch.
I have the kit and now I just need the foam. Can I buy it separately?

Of course! You can get a foam bottle refill here.
The Microfiber Towel ends up very dirty. What do I do with it?

Great! That means your shoes end up clean.

Our microfiber towel is machine washable and looong-lasting. You can also choose to wash it by hand and use it again and again ♻️
Do Shoozas products remove yellowing from white soles?

The yellowing you're noticing could be due to oxidation, a chemical reaction that causes certain materials to yellow. In such cases, our liquid cleaner won't be effective since it can't address oxidation. On the bright side, at least now you know what oxidation is! 😎

Shoozas Studio offers de-yellowing restoration services performed by professionals.
Great products make sure to choose the right one. Great customer service.
I got my hands on this kit a while back and tried it on my sneakers. Gotta admit, it worked great on my AJs and other leather sneakers. BUT when I tried it on my running shoes, not much changed and the brush spread the dirt everywhere. I wrote to shoozas with my concern. They got back to me pretty quick and pointed out that their in-depth kit is the go-to for running shoes or something like yeezys with fabric. They even sent one kit over for free to try out. I'm not one to leave reviews, but I felt I owe it to the guy who helped me and sent the free stuff. Credit where credits due. The stuff actually works as they say. They tossed in a bunch of stickers that was really nice too.
not great for white cloth/canvas. nice packaging though
after use on white cloth or canvas shoes they are more prone to getting dirty since the cleaner is not extracted. does only a moderate job of cleaning white cloth/canvas.
EXCELENT
The best kit for cleaning leather sneakers. Comes with all the tools. The foam works and smells great!
Magic!
Usually products like this do not work well, however after I tried this on my shoes, especially sneakers, the change is crazy. It literally cleans your shoes as if they are new again. Loved this product!!! Will definitely go buy again when I finish my bottle.
Awesome kit for an easy clean with all the needed tools
The Shoozas kit comes with all the needed tools for a quick clean. I used it on my leather shoes and they turned out awesome. Very easy to use, I didn't have to use any water which was what I was looking for. The mat is a great addition to keep my counters clean. All around, a great product.