Regular price
Sale price
$12.99 USD
Unit price
per
Sale
Sold out
Everything you need for an easy, dry, and delicate clean. Easily remove marks, scuffs, stains, and restore the nap on your favorite suede shoes.
What's in this kit?

- Double-sided eraser
- Suede brush
Safe on

Our suede kit is designed for an easy and delicate clean. It works best on suede, nubuck, rubber, and canvas.

Don't limit its use to shoes alone. This versatile product works wonders on bags, jackets, hats, and more!

Our priority is to improve the look and performance of your shoes. And we get it! We are also very protective of our shoes so if you have any questions, we are here to help.
The Shoozas Method

Restore your delicate shoes in minutes, just follow these simple steps!

BRUSH:
Use the Suede brush to remove surface dirt.

ERASE:
Rub double-sided eraser over marks, stains, or scuffs. Use the white side for general cleaning and the grey side for more stubborn stains.

RESTORE:
Brush shoe to restore nap.
Shipping & Returns

Free standard shipping and returns.

-Standard 5-7 Day Delivery (Always Free)
-Expedited Shipping:
Next-Day Delivery
2-Day Delivery
3-Day Delivery

Expedited shipping time and pricing varies depending on the delivery address and speed selected at check-out.
View full details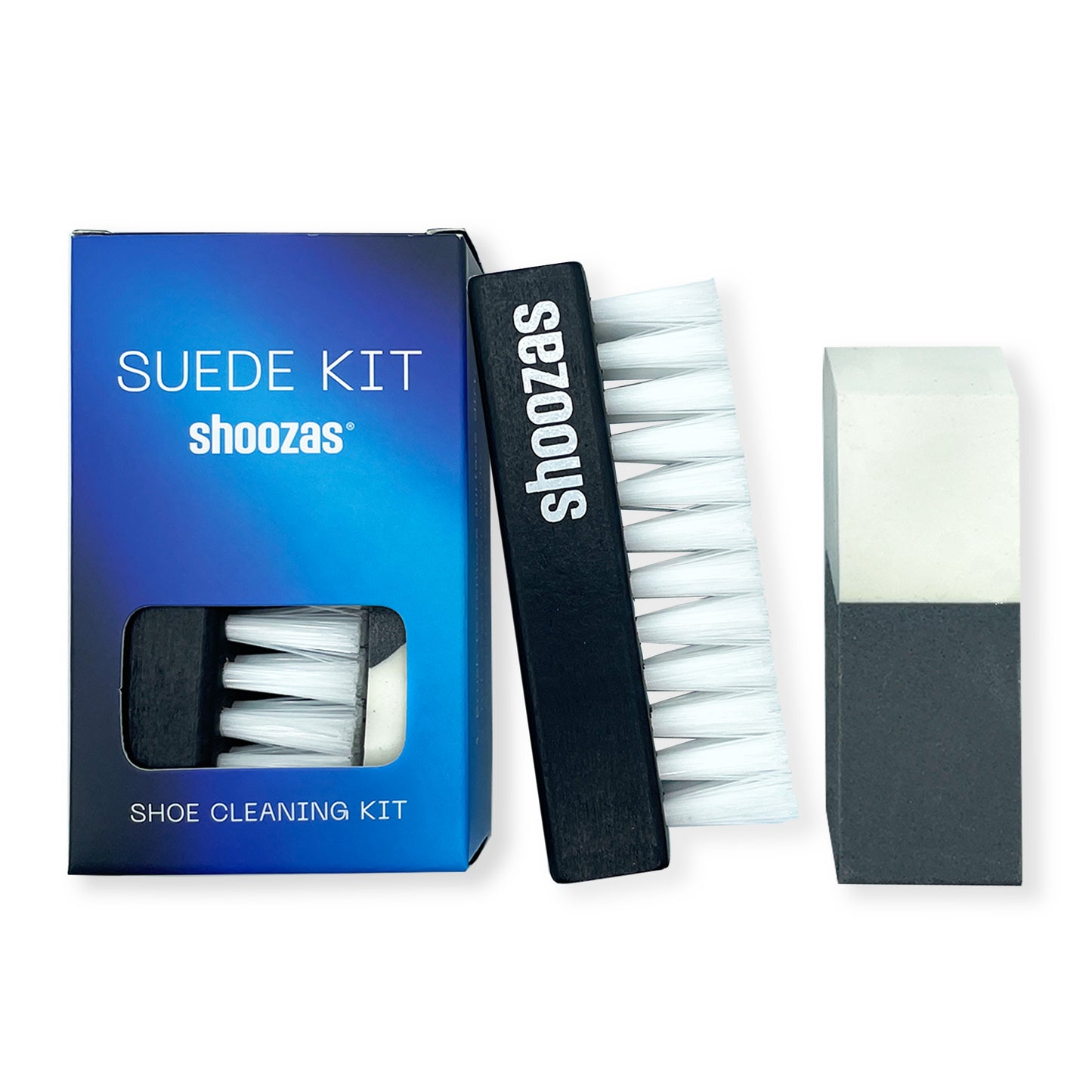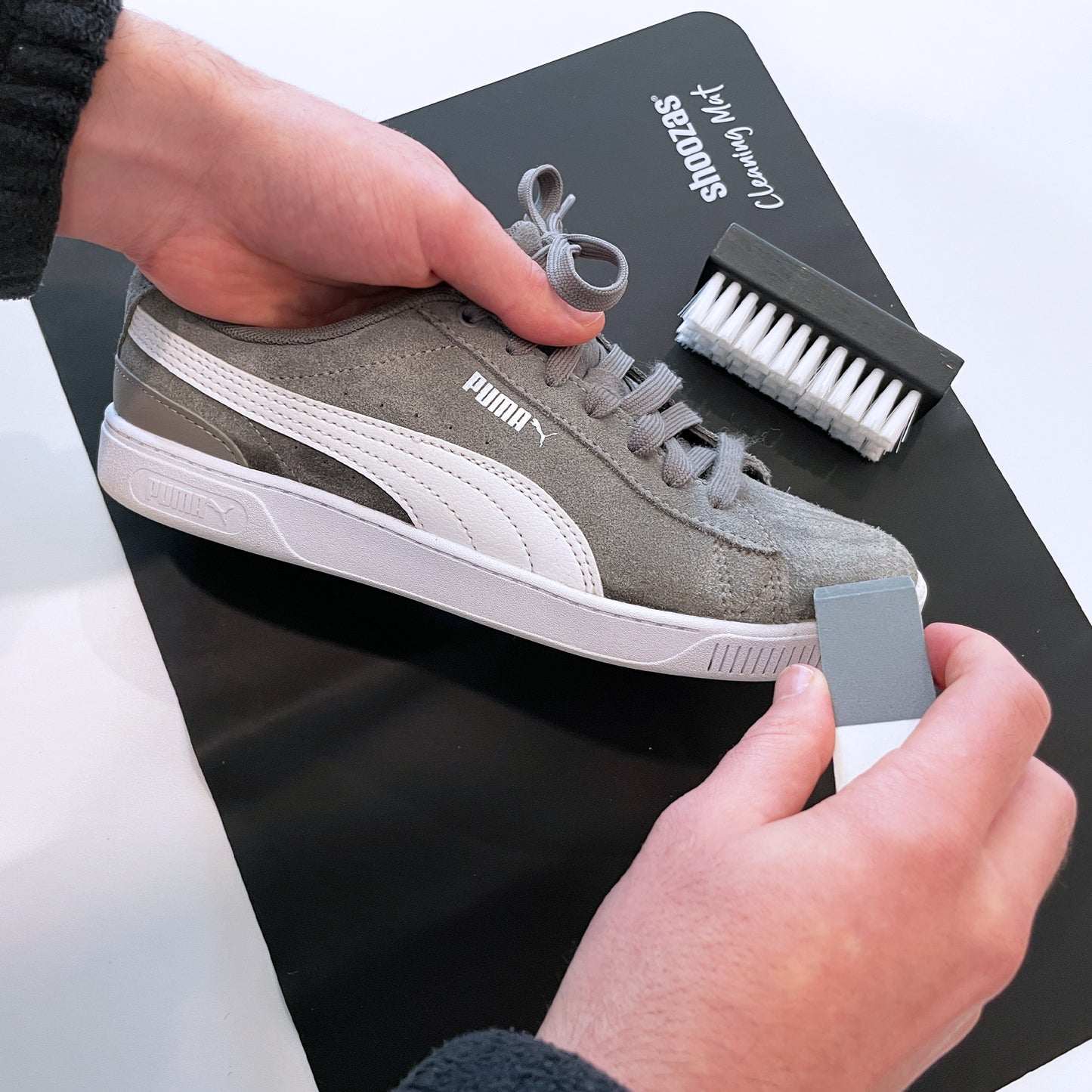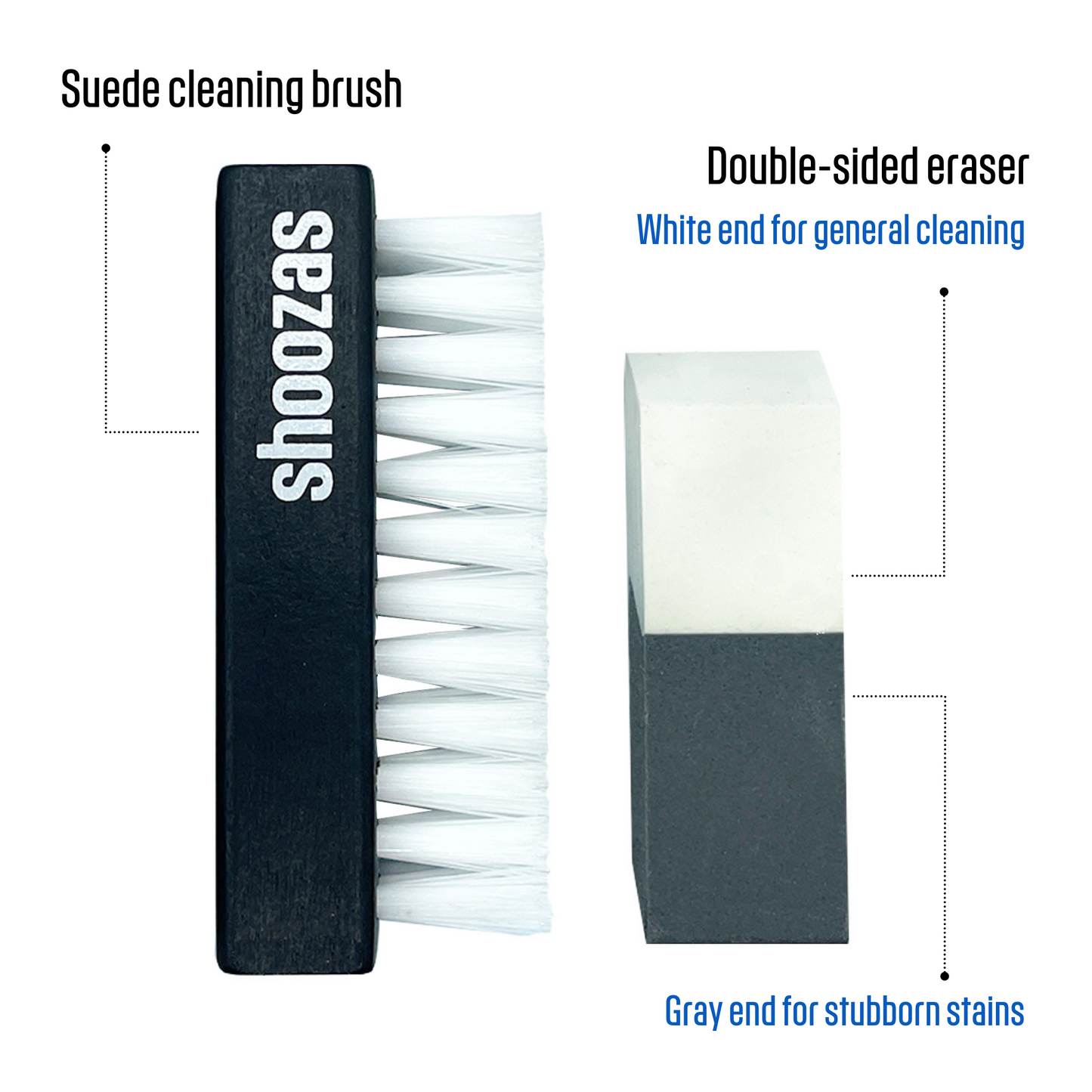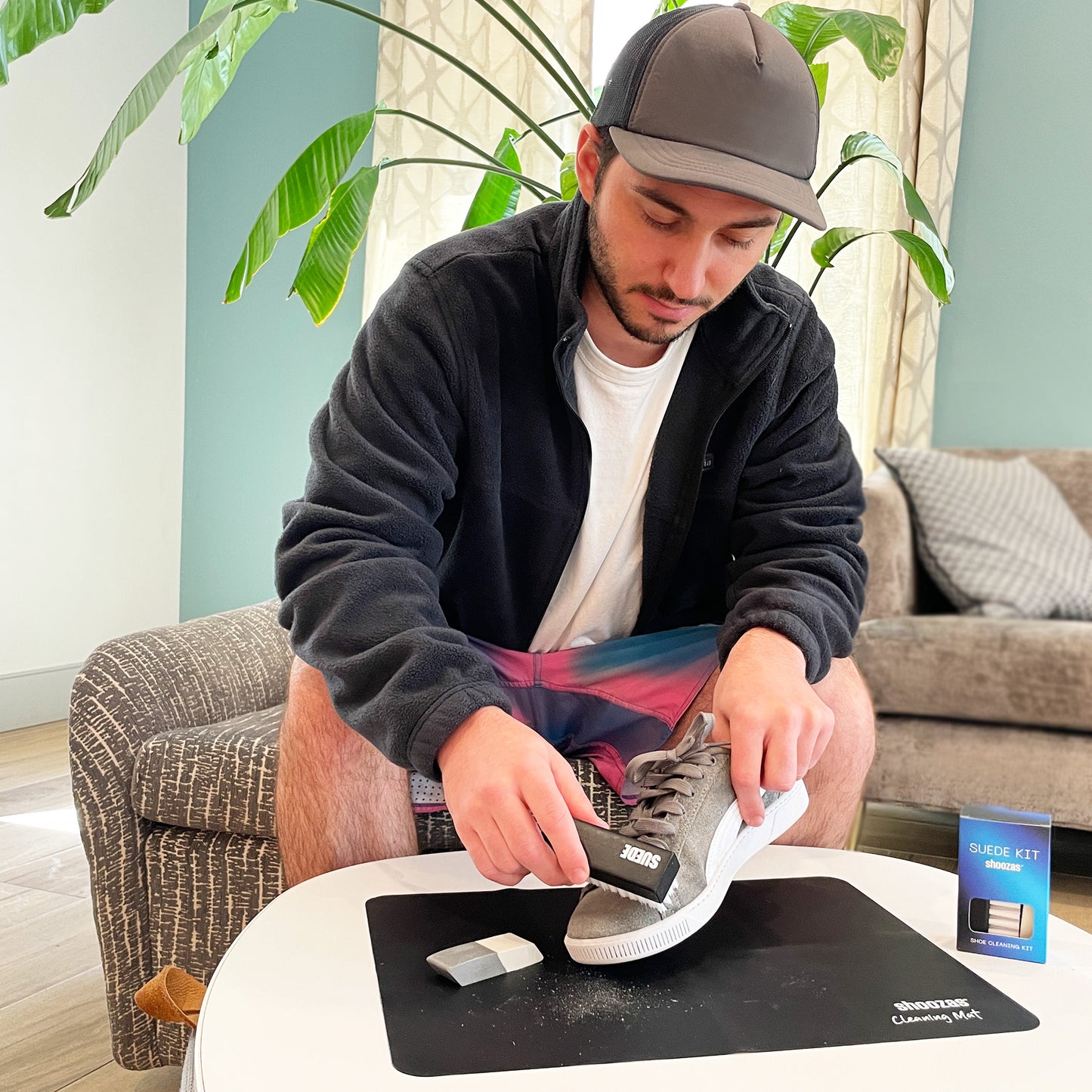 The Shoozas Method
BRUSH

Gently brush shoes in one direction to remove any loose dirt accumulated from daily wear and outdoor activities. Pro tip: regular brushing prevents dirt from embedding into materials.

ERASE

For general cleaning and water marks, use the white end of the eraser, and if you encounter stubborn stains, switch to the gray end for some extra oomph!

RESTORE

Brush the suede or nubuck in one direction. This action restores the nap, reviving the natural soft and velvety texture and appearance of the material.
FAQ
Is this the right product for you?

This kit is specifically designed to restore the natural look and feel of your suede footwear and accessories.

What sets it apart is its focus on delicate materials. Unlike our other kits, it follows a dry cleaning approach, ensuring safe and effective cleaning without risking water damage.
How to use your Suede Kit?

Follow the Shoozas Method. Learn how here.
What's included in the Suede Kit?

The kit includes:
- Double-sided eraser
- Suede brush
What is the Suede Brush used for?

The Suede brush is used to clean delicate materials. Its soft and fine bristles are designed to reset the nap, giving your suede items that fresh and velvety appearance. This brush won't cause any damage as it's not too stiff for the delicate suede fibers.

The bristles are made from synthetic materials, we don't use animal hair ♥
What is the Suede Eraser used for?

Our suede eraser is a game-changer! It's double-sided, with a white end for general cleaning and a gray end for tackling stubborn stains. Whether it's scuffs, marks, or watermarks on your suede and nubuck shoes, this eraser will remove them without damaging the delicate nap.
What's the best way to clean shoes with a mix of suede and other materials?

For shoes with a mix of suede and other materials, we recommend using our Suede Kit in combination with either our Signature Kit or In-depth Kit.

Our Signature Kit is ideal for cleaning leather, plastic, rubber, and soles.

Our In-depth Kit is perfect for materials like mesh, knit, cotton, plastic, rubber, leather, and soles.

Remember to be cautious with the suede part and avoid getting it wet. If the suede is extremely dirty and cannot be cleaned with the dry method using the Suede Kit, you can try using our foam or liquid cleaner. After cleaning, make sure to let the shoes dry completely before using the suede brush to reset the nap.

Since suede is delicate, if you're unsure about cleaning it yourself, feel free to send your shoes to our studio for a professional service. We'll take great care of them!
It actually works!
I have tried multiple products to clean suede shoes and non of them have been effective. Finally found one that actually works! Easy to use and great results, love it
Amazing Product!!
I have tested all the products in the market and there is nothing like this one! 100% recommended!!
Excellent product for suede
I've used it to clean a couple of my light suede shoes and loved the results. While the cleaning process did take a bit longer than expected, it was well worth the effort. You'll find yourself going over the suede with the eraser multiple times to get stains out, but the end result is definitely worth it.
Second purchase! Loving the kits.
Second kit I get from shoozas. This one I use only on a pair of new balance suede sneakers and works great.